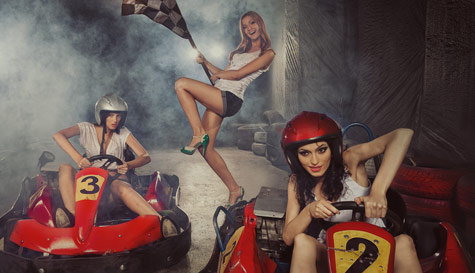 Michael Schumacher, Sebastian Vettel, Mercedes, BMW, Porsche, the Autobahn, the Nurburgring... When it comes to going fast Germany certainly knows a thing or two and Cologne's fantastic stag party go karting track really does deliver some epic thrills and spills. Full of superb German technical know-how and thirst for speed (which is only matched by the German's thirst for beer) you're in for one of the best go kart track experiences around. Trust us, Germany takes it go kart tracks very seriously. Which means more speed and more fun for you.

We've all argued with our mates over which of us is the best driver, well you can settle it once and for all in a country that has motor racing in its blood. The 400m track holds 12 karts at one time which means you're in for some totally awesome, adrenaline-pumping action. And possibly the chance of watching the groom park it on the tyre wall!?!

After an initial safety briefing and familiarisation with the karts' controls, you'll take to the track for some practise laps. Got your race face on? It's then time to take things up a gear in a set of qualifying heats to determine who'll make it through to the final race and the grid positions.

It's then one last wheel to wheel sprint finish. One stag will take the title and then be able to claim bragging rights over the lesser mortals who stupidly dared challenge him. And won't he just keep banging on about it during the rest of the weekend...

Optional extras - 45 or 55 minute race upgrade available on request. Please ask our team for more details.