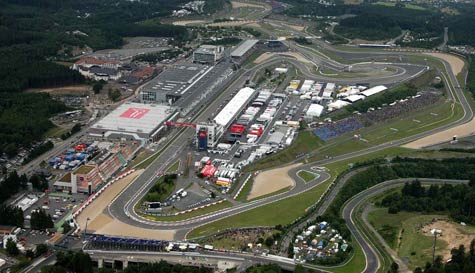 This is a ride quite like anything you will have experienced before. The Nurbrugring is one of the world's most iconic racing tracks which has played host to the greatest racing drivers of all time. And now you'll be taking to the track at roughly "Wahhhhhhhhhh!!!!!!" miles an hour.

The experience will start with a return transfer from your accommodation to the race track. Once there you'll meet the professional driving team made up of many well-known ex-champion racing drivers.

After a chance to see the track in action and get up close and personal with this legendary racing surface, you'll be strapped securely into the hot seat of a 560bph BMW (what else would you expect at the Nurbergring?) as one of the track's professional drivers gives you an incredible insight into this infamous course.

The lap will be driven on the Nordschleife (North loop) of the circuit which Sir Jackie Stewart nicknamed "The Green Hell". The track itself stretches out over 20.8km (13mls) and features 73 corners and has over 300metres elevation change between its lowest and highest points. It's also widely considered to be one of the most challenging circuits in the world.

The car can take up to three passengers on a lap and all participants must bring ID or passport with them.

Nurburgring QI
Drivers to have won on the "The Green Hell" include; M Schumacher, J Fangio, N Piquet, A Senna, J Stewart, A Prost, L Hamilton, N Mansell, F Alonso, Vettel.

Originally German racing took place on public roads but this was ended when it was considered to be "Impractical and dangerous".

The first-ever race at the Nurbergring was won on an English 35cc Velocette motorcycle.