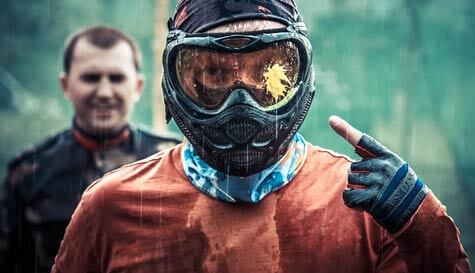 Paintball continues to be one of the most popular stag party activities for one very simple reason... It's EPIC!

Where else can you hunt down your mates, point a gun at them and pull the trigger? Repeatedly? Our Cologne stag party paintball is awesome for a whole host of reasons, add a little German efficiency and you're on for a winner, or it could be a loser, it depends who's on your team. But this is definitely a great way to sweat out the remaining alcohol in your blood whilst competing against your fellow stags, we'd advise picking off those that are looking particularly grey around the gills first.

You'll be using state-of-the-art weaponry and each stag will be issued with 200 paintballs and a mask to protect your faces. You WON'T be given overalls so please wear old clothes (they could get stained) and bring a change of clothes. You'll then be let loose in the 2000sqm arena where you'll battle it out in a series of different missions during the two-hour session. This really is a classic fight to the death/pub.

Our stag party paintball in Cologne is also a great opportunity to prank the groom. Seeing as how you wouldn't want him to get his own clothes dirty we'd suggest you bring along something for him to wear, like a bright pink onesie, tutu or how about hi-viz trousers and jacket? Well, you wouldn't want him to get lost in there and you're only thinking of his safety...
Then the carnage will begin. All those hours spent in the safety of their consoles will finally be put to the test. No more shooting ten-year-old boys in Ohio, or having your ass handed to you by a Japanese Xbox warrior, this time it's just you and the guys and those no monitor for safety. When the paint hit's the fan, it's just you, your semi-automatic and the enemy… It's go time!
Please note; all players must also show their passports.