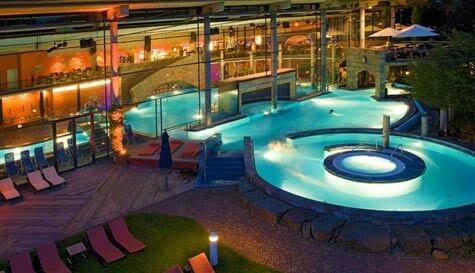 It's fair to say that stag parties are sometimes guilty of a touch of excess, those one or two pints two many, a lack of any food that isn't deep-fried or come with chips, the 3am decision that what you really need is two doner kebabs and a Big Mac, sooner or later you're going to need to detox.

Thankfully in Cologne, there is the perfect antidote for those early morning, stag party headaches and pains. You can quite literally dive into this fantastic spa which offers indoor and outdoor pools, solariums, saunas, whirlpools plus drinking fountains and a hot-and-cold grotto. Massage jets, bubble beds, neck showers and current pools.

If that wasn't enough you can also take advantage of the saltwater floating pool, chill-out rooms, sun terraces and lawns. And there's more...

Stags can also upgrade to include massage treatments which could be exactly what the groom needs after weeks/months of often stressful wedding planning (as well as any treatment he's received at the hands of his stags).

Whether it's relaxing in the saltwater floating pool with its underwater music and light installation, letting off steam in the saunas or chilling out on the bubble beds, this is the perfect spot to recuperate ready for another big night in wonderful Cologne.