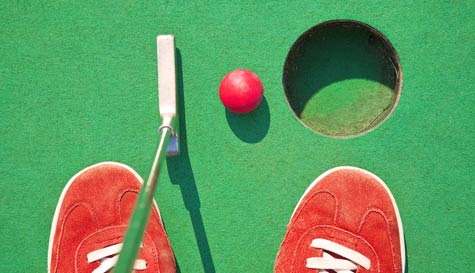 You're probably already familiar with the concept of crazy golf. But for the as of yet uninitiated, allow us to explain - it's golf if golf was crazy. Regular golf is fine, but sometimes you just can't be bothered to walk around a whacking great golf course. Sometimes, when you've got a hangover that feels like you've just clashed heads with Wayne Rooney, you've got to give crazy golf a go.

Luckily for you, our crazy golf stag party is perfect for stags that've had just one too many the night before and can't quite stomach the thought of a golf course that's up to scale. This hilarious course features some pretty tricky shots actually; we don't think it'd be out of order to say you might actually need some half-decent golfing skills here. Especially if you're trying to get around this course in the fastest time to avoid the embarrassment of having to admit you were actually the worst out of all the lads at crazy golf.

This crazy golf is pretty much a banker for banter and while it's nowhere near as epic in size as it's big brother, crazy golf still has plenty of competitive action on offer for you and the boys to get stuck into as you play all 18 holes of this course that's sure to give everybody big laughs.

It's not just a great laugh, stag party crazy golf is also a great way to decide who should be buying the first round or who should pay a stag party forfeit or dare. To set your stags up to take a fall check out our stag dares and forfeits.