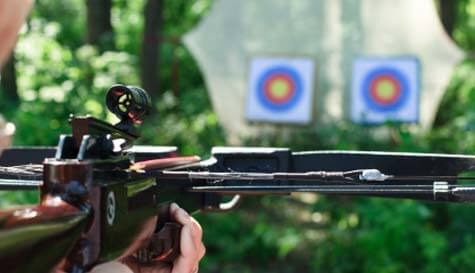 If you've ever watched the hit TV show The Walking Dead you're bound to have wondered if you could shoot a crossbow in the same way as indisputable badass Daryl Dixon. Even if you haven't, all lads know that when the zombie apocalypse finally does arrive, guns are nowhere near as cool as these bad boys. So why not get some early practice in with our stag party crossbows, it's action-packed fun that's sure to provide you and the lads with big thrills and a load of laughs on your stag weekend.

These crossbows were first invented all the way back in the sixth century BC in China and first came into use in the UK when it helped to conquer at the Battle of Hastings in 1066. Since then they've definitely adapted for modern times. These devastating weapons are fully automatic which makes them easy to use and control, meaning that even the most inexperienced stag can start destroying his target with ease after only a short time with his bow.

The target course on our stag party crossbow shooting sessions won't let it be as easy as pulling the trigger though, it'll take all your crossbow skills to dominate on this range as you and the lads shoot it out to prove who the biggest badass is and who would really be better off sticking to darts. You'll come up against a good variety of distances, sizes and difficulty levels which mean people of all abilities will be constantly challenged to the max.

For added incentive, you should take a photo of the groom and ask the instructor to place it over the target. Then take aim... Fire!