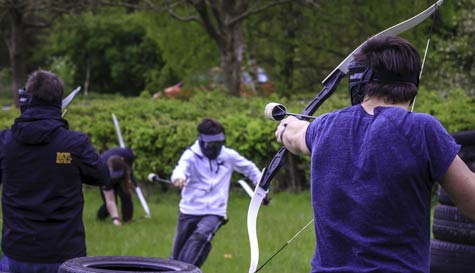 Ok, so if we're honest here, there have been times we've all wanted to shoot our mates with a bow and arrow (No? just us? Well this is awkward...).
Our Dublin stag party archery tag takes games like paintball and kicks it up a notch. You won't have to wash paint out your hair and then wait around for hours while the groom blow-dries his do ahead of the night out. There are no bruises from the impact of hard paintballs. But you do get to aim and shoot your friends in the 'nards'. With our Dublin archery tag, you can quite happily shoot your fellow stags with no lasting side effects apart from bruised egos for those on the losing side (set extra Stag Forfeits for the losers of course).
How its played...
You'll be split into two teams of hardened warriors (or hungover man-hazards, you decide). Each team has a set of fortifications for defence. In front of each teams line are a set of target for your opponents to aim at.
You can score points by taking out all your opponents targets or by taking out all your opponents. The twist is that when one of your team is hit he is forced to retire, but you can save him by hitting one of your opponents' targets.
You can also catch your opponents' arrows out of the air and fire them straight back with added interest. The arrows are tipped with soft ends so they can't actually do any lasting damage.
Brilliant fun, a really competitive sport and a step back into childhood with those games of war. Archery tag is exactly what an epic Dublin stag do needs!
And there's still more...
We'll even throw in a game of 5-a-side football afterwards for free!