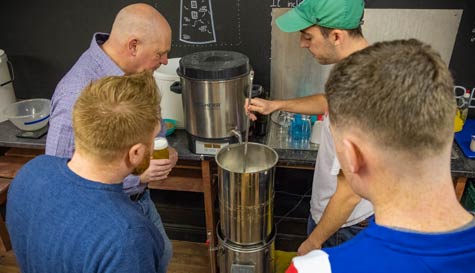 Probably the best lager in the world? Pure genius? Refreshes the parts other beers cannot reach? Nah!
Beer is good but brewing your own is better.
You and the guys can become purveyors of pints, kings of kegs, the ultimate beer bros as you take charge of every part of the brewing process in order to create your very own, personalised beer.
The session will begin with a welcome pint (natch) as you meet the Master Brewer (that's a genuine job title, trey cool!). He'll give you a rundown of the session and then show you how beer is made. You are free to take notes for your own home brewing.
Once you've learnt the basics it's time to get hands on, you'll be fully involved in making your beer, even down to designing the labels for the bottles. You can choose the type of beer you want to brew. But you can't do it metaphorically blindfolded, so to be sure you know what you're aiming for we'll arrange for you to have a tasting session (you're welcome!).
Then it's time to get busy.
Your beer will go through the full process, which takes longer than the day, so your finished beers will be sent to you later (approx two weeks). You can then take them along to the wedding for all the stags to enjoy.
Cheers!