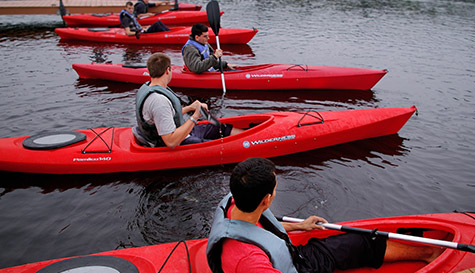 Take your preconceptions about city tours, and just throw them in the River Liffey! If you and the lads want to see the sights of Ireland's awesome party capital, but you don't want the epic adventures to stop, then this awesome stag party City Kayak Tour is the ideal solution for stags on a mission. Prepare to get wet and wild, you're going to see the sights of the city stag style!
For those of you who haven't been kayaking before, take it from us, it's great craic. But don't worry, we won't leave you up stag creek without a paddle. Your local guide will go through a quick safety briefing and make sure that you and the lads know how it all works before you get stuck in.
You'll start from the launching pad (between the Jeanie Johnston Tall Ship and Samuel Beckett Bridge) and head to the city centre. Paddle your way through the heart of Dublin and take in some of the city's most iconic landmarks, famous bridges and awesome architecture. As well as being fantastic fun and an awesome way to see Dublin, it's also a great way to get the blood pumping the perfect way to earn a nice refreshing pint of Guinness when you're done!
If the groom is an adventure-seeking fella then this City Kayak Tour won't disappoint. Unlike the canoe, which uses a single-sided paddle, you'll have the power of two blades to move forward, giving you complete control.
We can't guarantee that you won't get wet, but we can guarantee that is one city tour you won't be forgetting any time soon! So suit up, strap in and get paddling, gentlemen.
After you've taken a tour through the city, take the other epic tour this fine city boasts - a tour of the Guinness Brewery itself. Speak to a member of our friendly team today for more info about creating that awesome Dublin stag package.