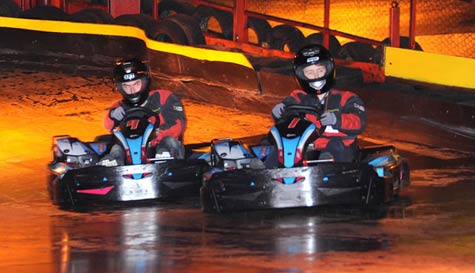 It's time to get off-road and personal! You and the guys will be going wheel to wheel on Ireland's premier go kart track. It's time to work off all that road rage and let the guys eat your dust on your Dublin stag do. This is high-speed wheel to wheel action where one stag will be crowned king of the track with a trophy for the winner.

You'll get behind the wheel of fully race-prepped Sodi karts, with Honda engines, capable of 45mph. After a safety briefing and a few practise laps to learn the handling and track. It's then time to get your game faces on as you race for victory with two hopes...
1 - Don't come last
2 - Someone films the groom wiping out on the tyre wall
The racing is split into a number of heats:
Race qualifying laps to score points
Top scoring drivers qualify for the four quarter-finals.
The fastest finishers in the quarter-finals advance to two semi-finals.
The top 6 drivers will battle it out in a 15 lap final
The winner will stand on the winner's podium to receive his trophy
Just 5 miles from Dublin, this isn't just the best track in Ireland, it's also the biggest with 60,000 square foot of track area, including 3 x 360-metre tracks, complete with flyovers, underpasses, hills and banked corners.
It's the perfect way to release all that pressure from your daily commute. No red lights, no grannies in Micras, no caravans, no grannies in Micras towing caravans stopping at every red light. This is pure racing, you and your mates battling it out on a superb track with bragging rights and your driving reputations on the line.