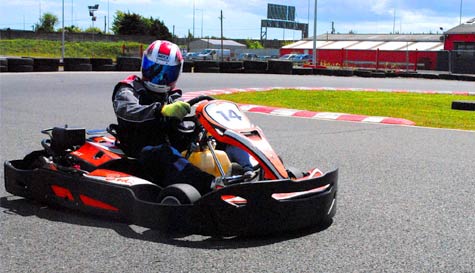 Our Dublin stag party outdoor go karting track is epic! If you're going, go big and this track gives you 1 kilometre of superb racing surface to go all Super Mario on your mates.

While the stags might all think they're a bit handy on Gran Turismo this great afternoon of racing will decide once and for all just who is the best driver and the Stag Stig as the king of the track is crowned (cue fanfare and an evening of unbearable smugness). It'll also show just who is Captain Slow (forfeits or pint penalties should be awarded at the groom's discretion).
Fully floodlit track
7m wide allowing for great overtaking
Speeds of up to 50mph
Hi-spec Honda engines
1km track
Sodi GT4 karts
The sheer size of the track and 7-metre width means you really can open up the engines and hit some great speeds. 50mph might not seem like much on a motorway but when your backside is just centimetres off the floor it does feel amazingly quick. The handling on the Sodi GT4 karts is amazing which only adds to the drama and let's not forget that there is always the added thrill/hope of potentially seeing the groom park it spectacularly on the tyre wall.
Our Dublin go kart track really is a must for a Dublin stag do, you can opt for the standard package giving you a practice laps, a 10-minute qualifying round and 20-minute race or upgrade to 30 or 40-minute race.