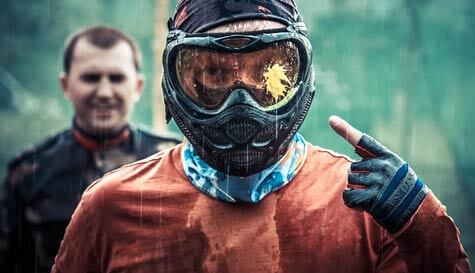 Our Dublin paintball activity is popular for one reason alone: it's epic! Sprint through dense woodlands alongside your best mates, shooting guns and ducking in and out of cover in your best John Rambo impression. Indulge your inner 80s action hero by storming into the fray, firing from the hip and combat rolling through the enemy lines, brushing off high-velocity paintball bullets like they're raindrops and shouting out one-liners like you're Arnie.

We've got some of the best gear around at our Dublin stag party paintball centre, including:

Tippman 98 paintball guns - these semi-automatic beasts can fire at 6 rounds per second with stunning accuracy.
DPM camouflage - Some of the most popular camouflage overalls in the world.
Anti-fog masks - protective face masks designed to remain fog-free in even the tensest of firefights.

Our Dublin venue offers a massive area for game zones. With 65 acres of forest as your backdrop, you can expect to play mission types like Siege, Capture the Flag and Tower Storm across a number of themed battle arenas.

If you fancy making the groom's Dublin stag do especially memorable why not dress him up in a hi-viz jacket or a pink onesie to make sure he doesn't go missing in action; it's for his own safety, honestly.