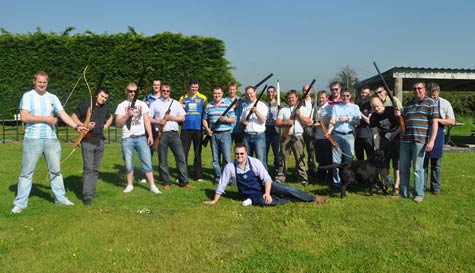 If you're going to hold a gun there's no point messing around with some poky little thing. If you're going to hold a gun make it a bloody big one! A gun that doesn't merely make little holes in the target but completely obliterates it in a shower of clay dust.
This is a brilliant and edgy competitive session where the only thing that matters is coming first place... That and ripping the p*** out of any of the stags that really miss badly. One of the best things is so much the competitive element (although this really is one all the guys will want to win) but the fact there's plenty of room and time for masses of stag banter to try and out psyche and outshoot each other.
Our Dublin target shooting experience takes the best of all the various disciplines and wraps them all up together so you can get the absolute maximum bang for your buck. We have experienced and professional instructors on hand to improve your shooting skills, ensure you're safely and quite literally keep you all pointing in the right direction.
Depending on the number in your party you'll be split into smaller group as you take on the three separate parts of the event:
Archery
Rifle shooting
Clay Pigeon Shooting
Free tea, coffee and snacks are also included.