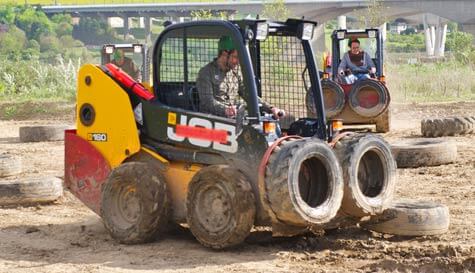 Little known fact: Dumper trucks were in fact invented to race, not to scoot around rocks and sand. Admittedly, this fact is technically a lie... but we promise (truthfully this time) it won't feel like one as you fly (as fast as it's possible to fly in a 1-ton dumper truck) out of the last corner and steam past your buddy to the finish line, and take the chequered flag.

Bonkers, bizarre, and bloody hilarious, this is a completely mad alternative to traditional racing - just how nifty these beasts can be, has to be seen to be believed. Your co-ordination, driving skill, and nerve will be tested as you steer huge dumper trucks around a specially custom-designed course and over tricky, dusty and bumpy terrains.

You'll be split into groups of three or four dumper trucks at a time to head across a largely flat course with a few surprises built into it. There are penalty spots that incur time penalties if hit, so a speedy but controlled race is necessary if you dream of dumper truck glory.

This is something none of the lads will ever have tried before (unless they're a dumper truck driver in which case they've got this one in the bag!) and while at first glance this does seem like a slightly mad idea, once you get under starters orders and see just what these bad boys can do you really will have the most incredible days racing. Who will end the day as the fastest stag on four (muddy) wheels?

Oh, and the number of "dump" jokes is just endless...