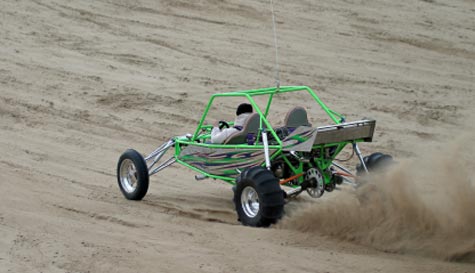 Forget the go kart track. If you want extreme balls out action then this is it!

For those not in the know, dune buggies are a cross between a quad bike and a go kart, and virtually indestructible. Designed to race over the sand they are lightweight and move like camel **** off a shovel.

Featured on MTV and descried as "Sin city's best near death experience!" by rolling stone magazine this is stag action on a whole new scale. You'll take the wheels of these hardcore racing machines that are tuned for optimum speed. An experienced dune buggy racer will set off ahead of you, it's then you job to catch him. However he won't give up easy and will vary his pace to match your experience, there's no limits so the faster you push the faster he'll go. As racing activities go this really is epic.

Each buggy is fitted with a four-point harness as well as having a toughened roll cage. The drivers well be equipped with gloves, goggles and helmets for complete safety. And you'll need it! You'll hit amazing speeds and all kinds of terrain so you can expect big air as you jump rough ground, obstacles and dunes.

If you can imagine all the excesses of the infamous Las Vegas strip being put into a vehicle then this is it. Simply put, stag racing doesn't get better than this.