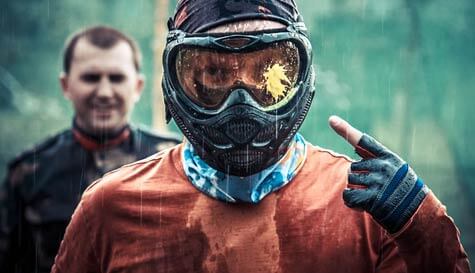 Any decent stag do needs some basic ingredients; banter, booze and battle. It's not a stag weekend unless there is some kind of sporting conflict for the guys to get stuck into. And it doesn't get better than shooting it out on a paintball field.
This is a chance for the guys to live up to their Playstation prowess, put the controllers down and see how they cope when the paint really hits the fan. You can settle old scores or create new grudges, best of all you can shoot the groom in his wedding tackle from point blank range. Repeatedly!
You'll be picked up from your accommodation and taken to the site where you'll have a quick safety briefing and armed with semi-automatic weapons. Then you'll decide your teams and take to the battlefield.
Once everyone is kitted up it's two hours of weapon pumping, paint splatting action as you fight your way through a number of different scenarios and missions.
Not only is this an awesome site, but each stag will be equipped with 200 paintballs, masks and goggles. Then you and your team can plan your tactics whilst discussing how to give the groom a complete Dulux makeover. Paintball remains one of the best stag activities for good reason, you can battle outdoors, shoot your mates, and get to live out all those Rambo, Call of Duty fantasies in Yippee-kay-aye mother hugger fashion.
It's time to kick ass! More to the point it's time to cover the groom's ass in dozens of paintball markers.