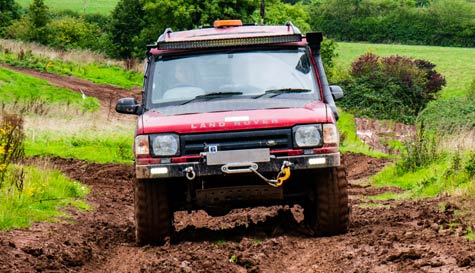 While some might think a 4x4 is purely for doing the school run and going to aerobics while listening to the latest Adele CD. Here at StagWeb we understand the real purpose of the 4x4 is to put stag parties through the ultimate driving test. Forget reverse parking and "When I tap the dashboard I want you to...", what we'll be testing you on is, can you keep it shiny side up and not park in a tree as we send you over a man-sized course of some seriously wicked off-road terrain.

Our Edinburgh stag do 4x4 off-road course really doesn't take prisoners and really kicks ass with a massive array of different terrain and obstacles for you to overcome. There's also the added challenge of putting up with the slagging of your fellow stags as you each take it in turns to get behind the wheel and navigate the course. The instructors will be on hand to keep you pointing in the right direction and award points for the best driving.

While some stags will want to go all "Clarkson" and apply full power to every challenge it's the canny stags who listen to the instructors who will show the best driving and get round the course the quickest.

You'll also learn plenty of skills that will help when facing bad driving conditions on the roads. All in all a top day of great action, stag competition and the potential joy of watching the groom swimming through a bog having had to abandon a rapidly sinking Land Rover. This chaps is Top Gear... stag-style!