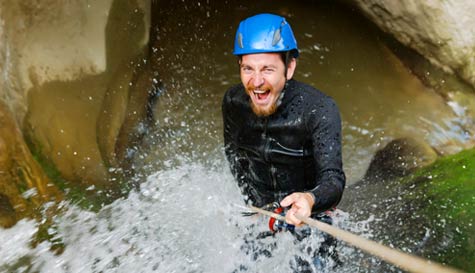 There aren't many chances in life to swim through rapids and jump off cliff tops. It's adventures like our Edinburgh stag canyoning that makes stag parties so epic. And this really is one awesome challenge.

On one slightly sobering thought, we'd like to point out this is one challenge that really isn't for the fainthearted as you and your fellow stags will really be put to the test in a series of huge, stag-sized challenges.

You'll be climbing and scrambling up cliff faces, swimming through surging white water and rapids, forming human chains to learn how to get groups safely across fast-flowing water. Plus of course, the epic cliff jumping as you stand on the edge and with expert guidance safely launch yourself off the edge and down into the rushing water below.

The instructor will be on hand to put you through your paces, push you to the limit and also to make sure the groom makes it back in one piece rather than terrified stags having to face the bride-to-be "Sorry, we lost the groom in a cave, we were going to go back for him but we didn't want to miss closing time."

As a stag activity it ticks all the boxes, it's something most of the stags won't have tried before, its energetic, adrenalin pumping, has a serious element of danger and could leave the groom/best man/most annoying stag whimpering like a girl and wishing you'd booked a cookery class instead.

Our Edinburgh stag canyoning adventure really will separate the stags, it's one massive white-knuckle adrenalin rush that you'll be talking about for days.