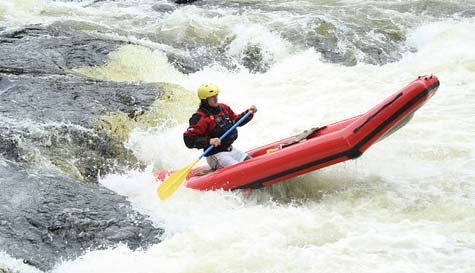 Forget the slightly odd name, duckies are not for the fainthearted. This is extreme water sports action of the highest quality. You and the boys will hop into two-man rafts that might not look like much on first glance, but you shouldn't let their smaller size fool you. These bad boys treat water with virtually no respect and will fly down this fast natural course at warp factor, so hold on to your helmets, gents, this is going to be a helluva ride.

You'll start your day with the obligatory safety briefing before getting your wetsuit on and hang on to your paddles (seriously, lose those and you really will be up s**t creek without a paddle). Then you'll get into pairs, preferably someone who you trust to pull you back in your boat if you fall out, and hit the water where you'll face a course that'll challenge you to the max as you head through drops, turns and a constant spray of water that'll get the groom absolutely drenched before the day is over.

Of course, it wouldn't be a stag weekend without some sporting rivalry so you can up the ante by seeing which of the stags can make it down the course the quickest, always listening to the instructors in terms of group safety.

This really is an awesome way to get some adrenaline-fuelled, high-speed water-based action that's sure to provide the lads with a unique challenge that they've probably not tried before. It's sure to be a crowd-pleaser, and it'll get the boys fired up before hitting the town. Just be warned, you might not find that the title of 'duckies champion' means much to girls around town...