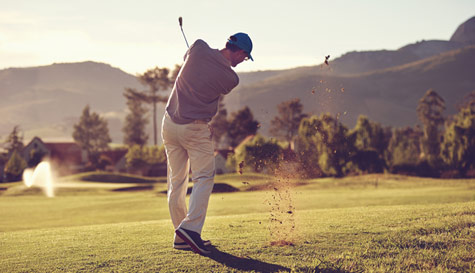 Golf is a superb choice for any stag party. You can create your own Edinburgh Stag Party Golf Championship, decide a prize and any stag penalty forfeits and then crown a champion while enjoying a well-earned drink at the 19th. Perfect for a bit of stag banter and for all the lads to catch up in a relaxing yet competitive afternoon of stag sporting action.

The location couldn't be better, with fantastic views of Edinburgh Castle, Arthur's Seat, North Berwick Law and over the Forth to Fife. The Par 71 course itself while a beautiful surface to play on is no easy place to try and tame. You'll certainly have some fun at one or two player's expense ("Dave, did you bring enough balls?") or quite possibly spend a few hours cursing the stupid idea of wasting hours slamming your balls into the gorse. This is a true golfers challenge but also a superb course to introduce golf virgins too.

Clubs are available to hire if you can't bring your own. There is also a course shop with any kit you might need as well as hot and cold drinks. Our main Edinburgh stag party golf course is just 3 miles from the city centre.

Whether your swing is in top form on the day or not, you'll enjoy a brilliant round in a stunning setting in the country that gave birth to arguably the world's greatest sport.

Please note; We have 6 fantastic golf courses available in Edinburgh in total and the actual course may vary depending on availability.