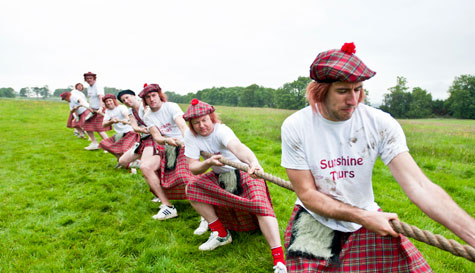 What better way to get a full taste of Scotland than by getting involved in your own mini highland games! The Edinburgh stag party highland games take place in the grounds of one of Scotland's finest castles, the perfect location for this timeless Scottish classic. Our friendly and fully 'kilted-up' highland instructors will ensure your event runs smoothly and more importantly you all enjoy some highly competitive sporting battle on your Edinburgh stag do.

Your party will be split into teams (the number of teams will depend on your group size) by the marshals who are proper highlanders and as tough as William Wallace's sporran. They'll give you a rundown of the events and then brief coaching on each individual game as you reach it, including launching weights over an iron bar, welly hurling, farmers dash, highland dancing, bagpipe playing, tug 'o' war, and of course the infamous caber toss!

You'll spend approximately 15-20 minutes on an activity before rotating on to the next. Once all activities are complete the scores will be tallied up and a small presentation ceremony will commence crowning the 'Lairds' of the Stag Weekend Highland Games.

Of course, it's entirely up to you if you want to run any side wagers, with forfeits for the losing team.