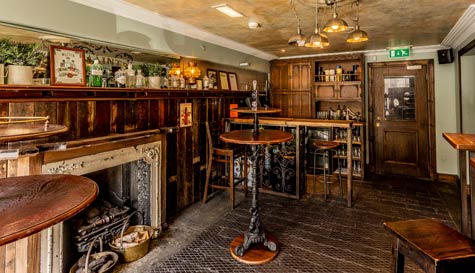 How could the groom not absolutely love having his own boozer for the afternoon?
The place will be closed to the public and exclusively yours for a three-hour period. But you won't be rattling around the place, this is actually one of Scotland's smallest pubs that holds a maximum of twenty guys, ideal for a stag group. And the "Wee Pub" kind of revels in being tiny (insert your own joke about the groom's anatomy here).
Even the drinks menu is on a postcard and a magnifying glass is kept handy so you can see it (add another joke about the groom's anatomy here). But the small size certainly won't get in the way of a good time (insert your own... oh, you get the idea). The pub has loads of personality and atmosphere with a TV, fireplace, high tables, perch seats and a group of the groom's nearest and dearest mates. The pub also dates back centuries (as all proper pubs should) and is packed with generations of drinking history and charm.
A barman will be on hand to welcome you all and keep the drinks flowing. It's not an open bar so the guys will be responsible for getting the drinks in and hopefully will acknowledge the superb job you've done by getting yours in too.
And it doesn't end there, you can add even more class:
Optional Extras
Stag Buffet
Whisky Tasting
Cocktail Mixing
Stag Buffet
Because man cannot live on booze alone. Choose 3 items from the menu:
Tortilla chips and dips
Garlic hummus and warm bread
Tomato and red onion bruschetta
Sweet potato falafel and yoghurt dip
Mini sticky toffee puddings and caramel sauce
Mini cheesecake and red fruits
Whisky Tasting
Sample some of Scotland's finest whiskies as curated by the Wee Pubs expert team. You'll get to try 2 - 4 drams with an insight into each of the whiskies.
Cocktail Mixing
Cocktails are seriously cool. Not only do they look great, taste awesome and sound sophisticated, they're essentially alcohol with added alcohol! Enjoy a glass of bubbly and then get down to the serious business of making two man-cocktails each as instructed by the barman.
Cheers!