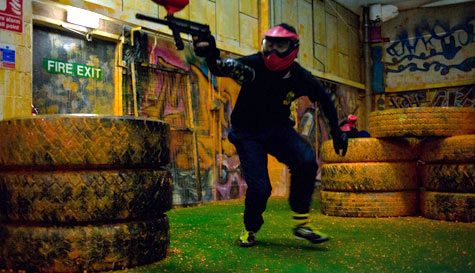 There's a good reason why paintball continues to be one of the most popular stag activities of all time. And then it's purely down to the fact that IT'S EPIC!!! 8,000 sq metres of astroturfed killing zone complete with a broken down car, two sniper towers and two abandoned houses.

Where else will you be allowed to run around like 9yr olds on e-number overload and shoot your fellow stags in the gentlemen's jewels from near point-blank range (but please refrain from doing that, it really bloody hurts and is probably quite dangerous)? Our Edinburgh stag party paintball arena is superb, shoot-em-up fans will feel like they're fully immersed in their favourite games, but while they might think they're crack shots in the safety of their own homes, how will they do when the paint really starts flying?

You'll be split into teams and face a number of different game scenarios. To keep things interesting and "protect" the groom, we'd suggest you take him along a nice hi-viz outfit to wear to make sure he stands out at all times. That way you can all be sure not to shoot him every chance you get just because it's hilarious. That would be cruel and we wouldn't dream of encouraging such great stag pranks.

To even up the odds slightly, the best man and groom will be issued with top of the range Bravo One assault rifles which are fully automatic and will have you spraying paint like a shell-shocked decorator in a ghost house. The rest of the stags are also really well kitted up with the site's very own custom made neoprene neck protector which allows breath-ability and protection without restricting the guys' movement. They'll also be issued Tippmann 98 platinum semi-automatics which fire as fast as you can pull the trigger.

Not only is our Edinburgh stag do paintball brilliant fun, but it's also the type of competitive, full-on stag action that you'll be talking and arguing about well after those first hard-earned pints have been downed.