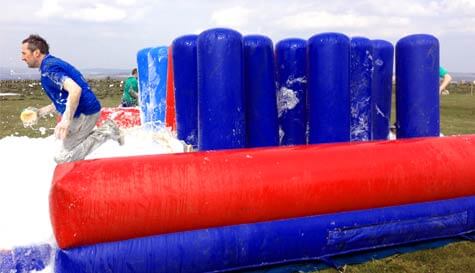 Imagine the Olympics games were being arranged by a group of 'Edinburgers' while enjoying a bottle or three of Scottish water (a.k.a. "whiskey") and a few boxes of shortbread biscuits... Judging by Edinburgh's love of comedy we're fairly sure the results would look something like this;

10 Maids A Milking
Milk the inflatable cow to fill the team bucket as quickly as possible. Like pretty maids all in a row, you'll need speed and teamwork to be first to finish.

Hairy Caterpillars
Inside a giant caterpillar track, you'll race to the end of the track and back to outsprint the other teams.

Pppppppick up a Penguin
A huge relay race dressed as giant penguins. It's quite easy really, especially if you're well practised in running races dressed as penguins.

Chicken Run
A giant inflatable obstacle course. The teams race from one end to the other picking up as many rubber chickens as they go. How is this event not already in the Olympics?

Rapid Racing
The objective is to transfer as much water as possible from one end of the course to the other. All you have is a raft, and teamwork to get the job done.

Ski Funday
The whole team will board a set of giant skis to race up and down the course. It's a hell of a lot easier than it sounds and requires real precision to get the whole team working as one.

Water Works
Transport water from one bucket to another. Simples right? Wrong! The buckets are at different ends of the course and the only means of moving the water is using sponges and a human chain. Things are about to get wet.

Fast Food Frenzy
Hidden among the slippery foam are huge 10 items of food. It's a race to uncover the food and get them to your "chef" before the other teams.

Please note - Games made be changed owing to weather or availability.