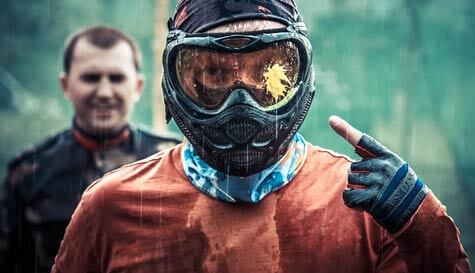 Paintball is still one of the most popular choices for adventure-loving stags. Well, where else can you get to aim a loaded weapon at your closest mates and fire off every round at close range? Superb!

Our Edinburgh stag party paintball site covers 25 acres and is, without doubt, one of the best paintball facilities in Scotland. You'll face your fellow stags in up to six different game scenarios all designed to allow you to 'decorate' your friends to the max:
The Outpost
Face-Off
Hamburger Hill
Where Eagles Dare
Bridge Over River Haggis
No Man's Land
You'll decide your own teams or you can possibly band together to take on challenges. It's adrenalin pumping non-stop action from the start and the perfect place to settle those arguments once and for all over who is the best computer game sharpshooter. Forget Call of Duty, this is a chance to see how the stags react once the paint really starts flying as stealth and skill matter just as much as accuracy.
No matter how you decide to battle it out, our Edinburgh stag weekend paintball session really will get the lads laughing and working up a thirst for the night ahead.
Stag Party Paintball Prank - No one wants the groom to get lost in amongst all the woodland, so take special care of him by dressing him in a hi-viz jacket and trousers or a nice pink onesie. That way no matter how well he tries to take cover he'll be visible to the other stags at all times.