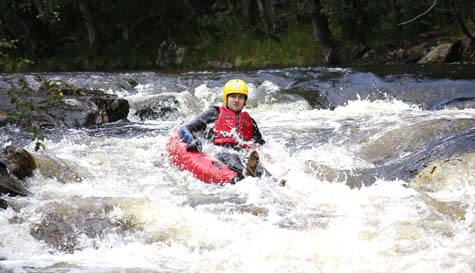 If you love white river rafting but wish you could do it in an armchair, we have the perfect activity to fill your oddly specific stag party needs! Although you really won't be sitting comfortably for long as stag party riverbugs are a full-on, extreme lads adventure that really does separate the stags from the boys.

Ideal for adrenalin junkies this is definitely not for the fainthearted and certainly not something we'd recommend to every stag party. You've got to be fit, and have a certain, willing disregard for your own safety.

If who are looking for something a bit different, that has plenty of thrills and potential spills Edinburgh riverbugging ticks all the boxes. Originally from New Zealand (the land of extreme sporting madness) riverbugging has now found its natural home in Scotland, propelling people down rapids. It's a completely unique, utterly exhilarating and totally nuts.

You'll sit in single-seater bugs with webbed gloves and take to the water, the gloves will help keep you (hopefully) pointing in the right direction as you negotiate some seriously tough water and obstacles including huge drops and churning rapids. Once you make it down the stretch of hazardous water in one piece, you'll find another even more demanding obstacles waiting for you. Have you got what it takes to man up and dive in?