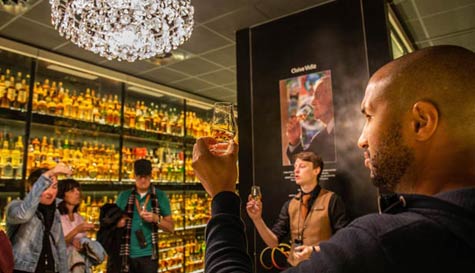 Quite frankly it should be illegal to go on an Edinburgh stag do and not sample whisky. This truly is the spirit of Scotland, even the name comes from the old Gaelic, "uisge beatha" which translates as "water of life", that's how important it has been to Scottish heritage. And who are we to argue?

For men of class and taste, this really is the perfect spot to enjoy the taste of the Highlands. The interactive tour offers a fascinating insight into the history of the country's most famous export and is possibly the finest whisky tour we've ever seen.

This stag party whisky tasting tour starts off with a whisky barrel ride through a replica distillery, as you find out the production methods of the whisky-making process (take notes but don't try this at home, customs don't like it). Your experienced guides will then teach you about the aromas found in whisky, how to get the best out of each bottle and the five steps to appreciating whisky like an expert.

The tour finishes with a look through the world's largest collection of Scotch whisky, a pretty impressive sight no matter what your tipple of choice may be.

But to make the tour fully interactive it's only fair that we offer you a "wee dram" of Scotch so your taste buds can join in the fun. You'll also be able to take home a commemorative stag party whisky tasting glass.

The whisky tour is a perfect afternoon activity to raise a glass to the groom in a suitable style and comfort, at a brilliant location, with friendly staff willing to share their whisky knowledge. Cheers!

UPGRADES
You are able to upgrade your tour to include a tasting tray of 4 single malt Scotch whiskies. Please speak to your account manager for further details.