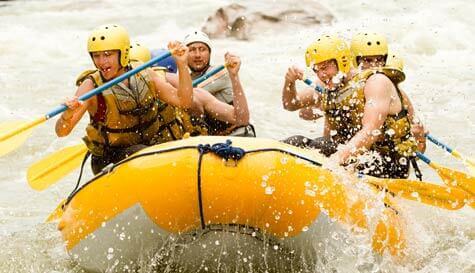 If you're looking for an adrenalin overload and serious stag challenge our Edinburgh stag weekend rafting experience just so happens to boast the best white water in the UK, spread over 4 of Scotland's toughest rivers. However, we're not going to soft-soap this activity. It is definitely NOT for everyone and only stags that really want an extreme challenge should attempt this one.

You'll face a series of increasingly tough water as you face some of the UK's toughest natural water obstacles including an epic two tier 20 ft drop. Each boat is guided by an experienced instructor to keep you all pointing in the right direction, however, you will need to listen and be able to follow his instruction in order to make it to the bottom of the rapids still inside the boat (rather than having all been thrown overboard by the water at the first hurdle).
This is one white-knuckle aquatic adventure and you'll be fully kitted up in wet/dry suits, helmets and buoyancy aids.

You will start off by practising a few basic commands, and playing a couple of games which always end up with you in the water! Once everyone has had a refreshing dunk it's down to business, where you will hurtle down into the grade 2-3 rapids, which include the infamous 'boulder dash' and 'death fang'. Then onto the monster 20ft drop. You'll need teamwork, a serious sense of adventure and be ready to laugh, sweat and work hard down an awesome adventure.

Please note; Unfortunately, you're not going to find the UK's best rapids just tumbling down the Royal Mile, our rafting site is 74 miles minutes north of Edinburgh but well worth the trip.