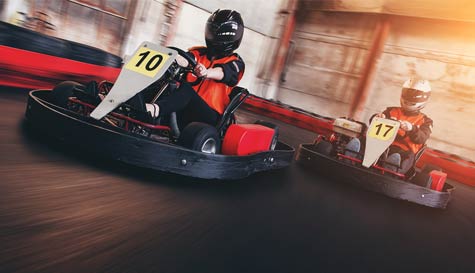 Every lad boasts about his skill behind the wheel, but this go karting stag party in Exeter will finally make you and your fellow stags walk the walk after all the trash talk. This is high-speed, adrenaline-fuelled fun that'll give you the chance once and for all to show your mates who is really the boss when it comes to wheel to wheel racing.

After getting your racing suit on and receiving the obligatory safety briefing (please don't try to wipe the groom off the track completely) you and the lads will start your engines and the action will begin. These Rimo Evo 5 karts are real track toys and you'll have great fun powering through straights and sliding around corners like a real pro. Also, with a state of the art 'ROC' race timing system that'll work out both grid positions and lap times to a 1000th of a second, there'll be no excuses.

You and the lads will have to leave it all on this 350m, fully boarded track to decide who the real boy racers are and who should be buying the drinks tonight. Our go karting stag party in Exeter is a must for stags looking for some fast, tyre spinning fun on their big weekend.