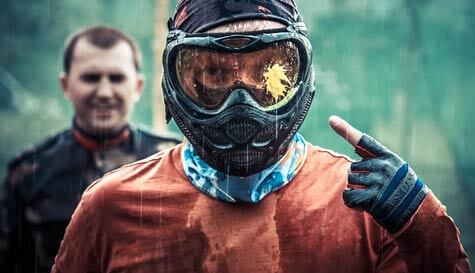 There's nothing quite like a session of paintballing to set you up for a classic stag do. With fresh air in your lungs, cool wind in your hair and paint running down your goggles, paintballing is the ultimate remedy to a heavy night of drinking. Get together with your best mates and head into the fray fuelled by nothing but adrenaline and last night's takeaway.

Our Exeter stag party paintball centre is the perfect venue for you to indulge your inner Rambo or Lone Wolf McQuade. There is a variety of mission types and game zones for you to do battle in that will cater to everyone's skill sets, whether you're a tactical pro, a stealthy ninja or a gung ho soldier of fortune, you'll all have your moment to shine our on the paint spattered battlefield.

Put the PlayStation and Xbox controllers down and grab some pinpoint accurate, semi automatic paintball guns to find out once and for all whether all those years of Halo or Call of Duty have been worth it away from the virtual theatres of war. Bragging rights and pub banter are the spoils of paint warfare, and that's a prize so tempting every stag will be fighting tooth and nail for victory. So gear up, band together and give them hell!