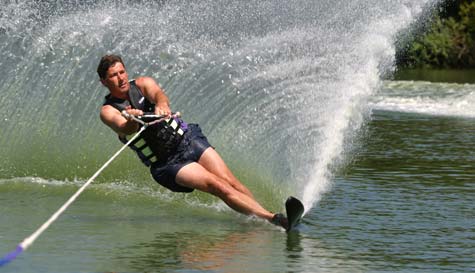 If you're looking for a bit of coastal chaos, wakeboarding is sure to provide it in spades. This activity is fast, furious and seriously wild as you and the lads strap yourselves into water-skis to ride the water. Unlike normal skiing, you won't have the driving force of gravity to pull you around; instead, you'll have a powerful speedboat that'll throw you around the water without mercy, 'scream if you want to go faster!'.

If you've never donned a pair of these fetching skis before, then don't sweat it. Our experienced instructors will always be on hand to offer top tips and tricks so that in no time at all, you'll be on your feet, crossing the wake and even popping a few jumps.

But if you are a seasoned professional, then this is your chance to show all your skiing skills in front of the lads - be warned though, there's sure to be plenty of banter if gloating stags take an impromptu plunge into the water below.

Waterskiing is a fantastic activity that's definitely worthy of your big weekend. Unlike surfing or bodyboarding, you're guaranteed to catch some serious speed on the water... largely because there's a massive speedboat dragging you about, but that doesn't change the fact that waterskiing is effortlessly cool.

With all the latest equipment, waterskiing is the real deal, and you definitely won't be able to blame your skis if you can't stand on the water. At the end of it all, you'll have had a fantastic session and if you're really lucky, you might even catch the rare sight of a flying groom in the wild!