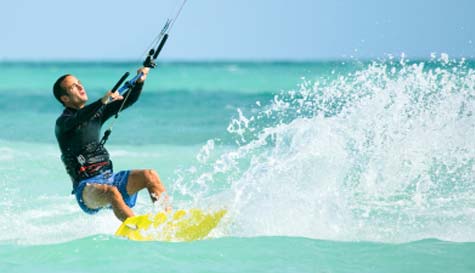 Man has always looked to the sea for adventure, and on your stag do, you might find yourselves doing the same. A day out on the waves is a favourite among lads who demand white knuckle fun from their big weekend. Our Exeter watersports day will give you and the boys a chance to get seriously wet and wild in a variety of activities designed to push you to your limits.

Whether you're a seasoned surf pro or a complete newbie, this day of watersports action is perfect for everybody. The more competitive stags among you will be able to go head to head across the waves, but don't get too cocky. With expert instructors on hand at all times, even lads who start off like cats to water can soon master the surf and find themselves hanging with the best of them.

Exeter is an ideal location for a legendary day of watersport challenges with everything from flatwater to rolling waves. On your watersports day, you can build a package perfect for you.

You'll be able to choose from:

Wind Surfing - One of the trickiest watersports to master. Once you get the hang of it you really can pull some seriously impressive speeds. `

Kayaking - Slightly more sedate but requiring just as much muscle. You can even get the stags lined up to create your own regatta with an open race or time trial.

Stand Up Paddleboarding - Although it might appear to be a relatively new sport, stand up paddleboarding (or "SUP") actually has a long history, and it's brilliant fun once you learn to keep your balance.

Kite Surfing - This is the rock god of watersports, cool, sexy and a total crowd-pleaser. Kitesurfers have hit some amazing top speeds and ex British kite surfing champion even managed to leap Brighton's famous Palace Pier in a single bound!

Choose your weapons and then take to the seas, on what will be an epic waterborne adventure.

Full or half-day packages are available depending on your requirements.