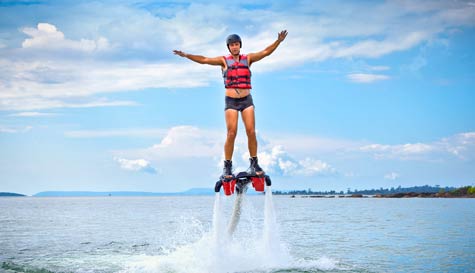 If you've ever wanted to be a real-life rocket man then this is the closest you can get without having to invent your own rocket-fuelled jetpack (and that rocket fuel is expensive stuff). But with water jetpacks not only will you not be hampered by any kind of Iron Man headgear but it really so much more fun.

For one thing if you crash land on rocket pack you are most likely to faceplant tarmac and go out in a spectacular ball of flame (game over!) whereas with our brilliant water jetpacks you'll get a face full of water and a sarcastic round of applause from your mates as they look on and tell you exactly what they think of your driving skills.

Stag party jetpacking is like nothing you've done before, a totally memorable event that the lads will be talking about for months. It's also great fun to watch so whether you're waiting for your turn or just watching the groom fly through the air with the grace of a constipated cockerel there will be plenty of banter for all the lads to enjoy.

One of the great things about stag parties is getting to try something completely new that you'd probably never do otherwise and without doubt, this is one of our most exceptional stag party activities. In no time at all, al the lads will be able to get up and perform their own mini aerial display. Although there will most definitely be a few crash landings along the way.