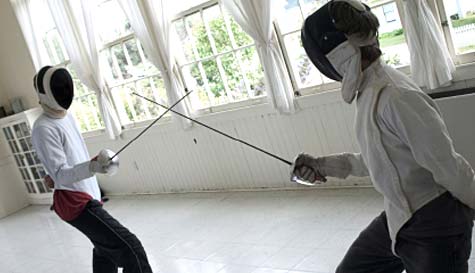 Have you ever fancied yourself as a secret Zorro? Well now you'll have the chance to prove it as you and the lads thrust, parry and attack your way in an awesome stag party fencing competition. This is a totally new sporting challenge that most of the guys won't have tried before.

Anyone can shoot, but it takes a special kind of stag to be able to take on sword to sword combat and win. Fencing is, of course, a more classic, gentlemanly sport. It's a classy way to take out your frustrations with the lads, especially those who you've lent money to time and time again and yet you're still waiting for some payback, well, this could be your chance...

When you arrive you'll get dressed into protective fencing armour (of the sporting kind, don't expect to be dressed as ye olde knights) and get to grips with three weapons; the foil, sabre and epee. You'll have full instruction, so even stags who can't tell the blade from the handle will soon find themselves fighting like Captain Jack Sparrow in Pirates of the Caribbean.

Once you're all trained up and less likely to take your own eyes out with your weapon, it'll be time to take on your fellow stags in blade on blade combat to discover who the real stag fencing champion is. Steely eyes, fast hands and agility are required to outfight your competitors and emerge victorious.

Our stag party fencing activity is sure to give the guys a physically intense, competitive, unique experience that the lads won't be able to stop themselves from getting stuck into. It's sharp fun and a great way to settle old scores, find a new sporting challenge and work up a thirst ahead of a big night out.