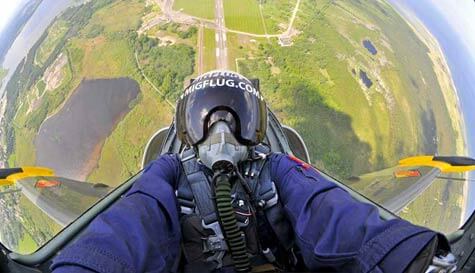 Take over the controls of a jet fighter mid air.
Stag parties simply don't get cooler than this!!!
"What did you do on your stag do?"
"We went tenpin bowling. What did you do for yours?"
"Oh, I just flew a jet fighter!"

Yep, this is quite possibly the greatest stag party boast ever but it isn't pie in the sky stuff, with our stag party jet fighter adventure you're not merely a passenger, you'll actually 'take the stick' and fly a fighter jet. Stag parties just don't get any cooler than this.

While the groom probably hasn't 'lost that lovin' feelin' what with his impending nuptials, there's still a chance he might be a fan of the classic lad movie Top Gun. So if he 'feels the needs for speed' this really is the ultimate in stag adventures.

Our stag party jet fighter flight is a once of a lifetime experience that will put a huge tick on any stag's bucket list as you perform;
Loops
Rolls
Immelman turns
Low-passes
Dives
Steep ascent
You'll take to the skies in either an Aero L-39 or the infamous MiG-15. MiGs were the flying nemesis of Maverick and Goose in the movie but this time it could create your own personal hotseat as you experience the type of flying you would normally only see in movies or aerobatic display shows.
The experience begins with a safety briefing from the flight instructor who will explain the various instruments, controls and G-forces involved. He'll also give you a breakdown of the flight itself and what will be involved. It's then up, up and away as you fly the friendly skies in quite spectacular style.
Jet Fighter Stats
MiG-15
Top Speed - 668 mph
Wing Span - 10m
Length - 10m
Engine - Kliomov VK-1
Climb Rate - 330 m/s
G-forces - +8/-4
Primary Users - Soviet Air Force, PLA Air Force, Korean People's Air Force
Aero L-39
Top Speed - 466 mph
Wing Span - 9.46m
Length - 12.13m
Engine - Garrett TFE37
Climb Rate - 21 m/s
G-forces - +8/-4
Primary Users - Soviet Air Force, Czechoslovak Air Force, Libyan Air Force, Syrian Air Force