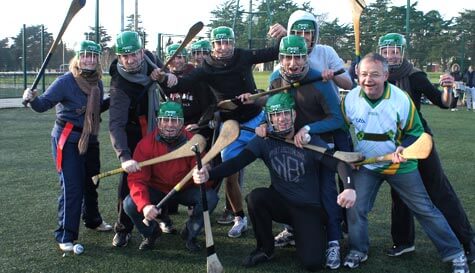 It's fair to say in Ireland they like to do things a little differently and that includes some amazing sports. If you have occasionally accused Premier League footballers of wimping out, check out the tough guys that square up in Gaelic football. Rivaldo could certainly learn a few pointers.

Our stag party Gaelic games activity will see the lads tackle some of Ireland's oldest sports and see who among you will emerge as the true sporting champion or split into teams.

Hurling - You'll get involved in hurling, which requires, speed accuracy and bloody big sticks.

Gaelic Football - Like a mad, mash-up of rugby with the scoring rules of regular football... And a lot more violence.

Irish handball - Featuring one alley, four walls, one ball and a group of competitive stags. It's fun, fast and furious action that's sure to thrill all the lads.

In our Gaelic games day you and your stag party will get to take part in a unique and memorable part of Irish culture as well as swapping plenty of stag banter and sporting chants? "Who drank all the Guinness?" "You're going home in a stag do minibus!" If you're looking for some unexpected, intense sporting action on your big weekend, then this is a must for you. The three sports on offer here are quality fun and you're sure to have big laughs as you take on the lads in epic competition.

It's sure to get all the boys fired up before that big night out back on the town, and if you're lucky you might be able to catch a game of Gaelic football on the TV down the pub before heading out to your first club... If you really want to feel like sports starts why not add guest list nightclub entry?