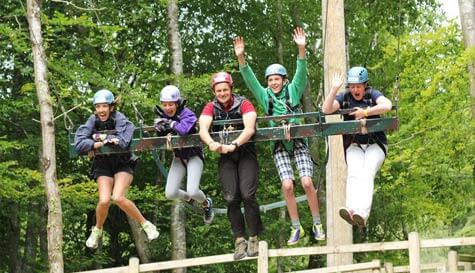 Here at StagWeb HQ, as purveyors of adrenalin-pumping man-madness, we leave no stone unturned in search of ultimate stag party thrills. We also look skyward, which is where we spotted the monumental SkySwing sweeping through the air. With a quick "Hold my manbag!" we were shimmying up to the top in double-quick time like the metrosexual, thrill-seekers we are and we can tell you chaps this... is... AWESOME!

Set in the stunning surroundings of Snowdonia National Park (an amazing backdrop for great stag team photos), you and the boys will be hoisted over 80 feet into the air as you try to tough it out and not look as nervous as you will be feeling. Once you're at launch height a quick signal will be given before you're sent swinging through the air at speeds of up to 60mph.

If you remember the halcyon of your childhood where trying to get the swing at the local park to go as high as possible was the "best fing ever!" you can now multiply that thrill by an extra 80ft and add the extra 60mph for good measure ("Let's play countdown!"). And for those that keep their eyes through the whole ride, the view is quite simply stunning.

Please note: It might not be the best cure for stag hangovers. Then again, it just might be.

Why not add on...?

Why not add another incredible local activity to your itinerary, such as our Parachute Simulator, Ultimate Zip Wire or Trampoline Cave Adventure? Please speak to your account manager for further details.