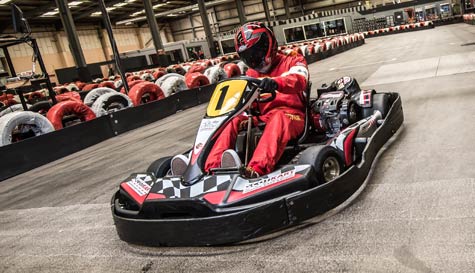 It's time to put an end to any doubts and prove once and for all who is the fastest behind the go kart wheel on your Glasgow stag do. The groom has been claiming he's a driving god ever since he first played Mario Kart, you can out him straight as you push him out on the bends of this superb track which you'll have all to yourselves during your session.
Every stag weekend needs some competitive action and this really does tick all the boxes. It then squashes them into a crash helmet before running them over and dragging them around the track at roughly "AAAargh!" miles an hour. You'll get kitted up in race overalls and helmets before a quick safety briefing. Then you'll get behind the wheel of the 200cc hi-performance karts.
The action takes place on one of the UK's top karting tracks. A race director will take charge of the action as you race through a series of different laps. You'll begin with a warm-up session as the guys get used to the karts' handling and learn the track. If you're not on the track have your camera at the ready to hopefully catch the moment the groom parks it on the tyre wall in spectacular style. Muppet!
You'll start with 6 practice laps then go into a 10-lap qualifier race. It then gets serious in the 16-lap heat race before the winners and losers decide their fate in the 16 lap grand final. That's a superb amount of track time to cut each other up, squeeze each other out and force those lesser mortals to eat your dust.
But we don't want you wasting away so you can refuel at the pizzeria and café. And if you still want more action you can add Laser Warfare. Ask our team for more details or to get Laser Warfare and a pizza added in advance.