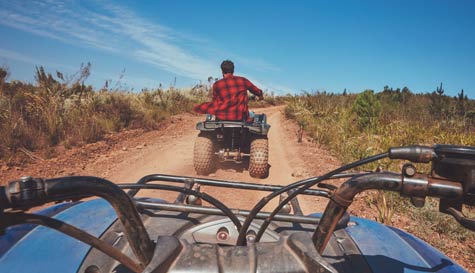 Ok, we're not going to mince our words, if you're even remotely scared of sitting on a quad bike or getting off-road then we'd politely suggest you book an afternoon of badminton or something indoors where you get to smoke a pipe. Our formidable Glasgow quad biking experience makes no apologies and doesn't take prisoners. This is full-on quad trekking over 80 acres of unspoilt woodland.

The training area contains Green, Red and Black runs and you'll be let loose on the track while the instructors judge your driving ability. They'll then place the stags in order to make sure everyone gets the most fun without being held up. You'll be riding awesome Yamaha Grizzly quad bikes and kitted out with helmets, we'd also advise gloves, good boots and waterproofs as the Glasgow weather is just one of the elements that will be out to challenge you.

But this is your experience; the guides are on hand to keep you all safe, show you the course and make sure none of you park it halfway up a tree. Other than that this is your experience, you get to call the shots and our quad biking team will be on hand for you to take things as hard or as easy as you choose (although trust us, nothing is easy in this demanding and rugged landscape.

So get ready to mount up for one of the UK's premier quad bike sites!