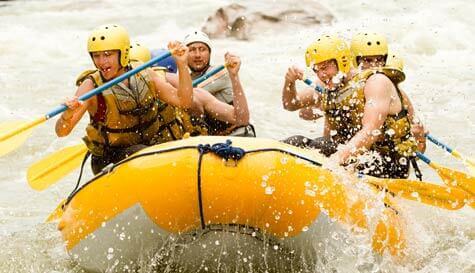 As far as white water courses go, this is up there with the most extreme in the UK. With grade 2-3 rapids and a seriously white-knuckle grade 4 drop, Glasgow white water rafting certainly isn't for the faint of heart. We should probably include 'balls of steel' as a requirement for entry on this one, but if you reckon you've got what it takes to beat the rapids, then there's some serious thrills to be had here.

This definitely isn't for everyone, only lads who reckon they're Jason Statham levels of hard should get stuck into this, you'll take on a course that only gets tougher as you go along as you and the boys take on some of the harshest white water conditions around. Rushing waters won't be the only thing you'll have to deal with, this course is littered with tricky natural obstacles, and you'll have to work together if you're going to find a way past them.

However, with experienced instructors leading the way at all times, the lads will soon build the levels of confidence they'll need if they're going to conquer these epic rapids. You'll receive constant advice on what to do next, as well as some helpful warnings about whichever challenge lies around the next white knuckle twist or turn.

On your white water rafting experience, you'll find out if you've got what it takes to overcome one of the most challenging outdoor activities in the UK. This really is tough, but there's unforgettable action to be had here, and although you're likely to be breaking a sweat before you hit the water after your first go around you'll be desperate to go again.