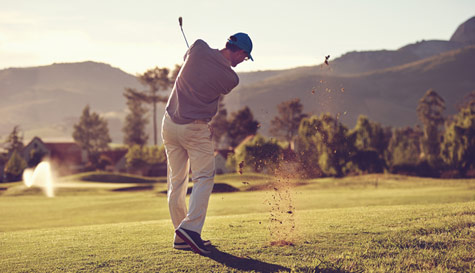 Our stag party golfing activity is a great way to kick any killer hangovers to the curb while injecting your big weekend with some competitive action. Whether the groom's a die-hard golf fanatic or the closest he's gotten to a nine-iron is down his local pitch and putt, he's sure to enjoy a round of this gentlemanly sport on some of the UK and Europe's top courses.
From Barcelona to Bristol, Marbella to Manchester, you can expect only the best-golfing action as you play your way around 18 holes before stopping at the 19th for a celebratory pint (stag forfeits should be dealt out to the losers).
It won't be as easy as just hitting that tiny ball as hard you can though, you'll face rough terrain, sand bunkers, and some seriously tricky natural obstacles that'll require all your skill with a club to master.
Take on rocketing fairways, and try your hardest to block out rival stags' jeers when it comes to putting the ball in the 18th hole. If they really do prove to be too distracting, just remember that a 'birdie' is a hand gesture as well as a golf score…
Stag party golfing gives you and the boys a great excuse to get out of town for a few hours to compete in a gentlemanly sporting competition that's sure to be full of great banter and plenty of laughs.
Stag Fact: Samuel L. Jackson, star of Pulp Fiction and Django Unchained is so keen on this sport that he has golf breaks written into his contract for any film he acts in. Guaranteeing him two golf sessions per working week!