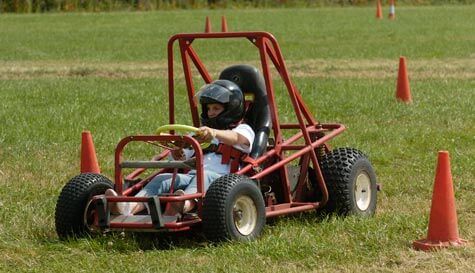 If you fancy getting some four-wheeled racing action on your big weekend, but normal go-karts are something that you and the boys are used to by now. It's definitely time to try something new and grass karting doesn't merely tick all the boxes, it runs straight over leaving heavy tread marks. Our stag party grass karts event will get you and the guys racing side by side in go karts... on grass.

Do not adjust your screen, you read that correctly. These bad boys can do more than you might expect off the track. Go karting might be slick and polished, but grass karting is raw and unpredictable! As you race around this custom built track you'll power through bumps and potholes and other tricky obstacles, which if you manage to pass through without losing speed are sure to slow down your competitors, giving you an awesome competitive edge.

And speaking of competition, there's plenty here for stags to get involved with. You and the lads will compete in heats, time trials and possibly grand finals to settle all the racing bragging rights for good. So if one of the boys is always banging on about his epic driving skills without ever backing it up, now's your chance to leave him in the dust.

Grass karts are an awesome way to get some adrenaline-fuelled, white knuckle racing action into your stag party on your big weekend. It's fast, furious fun that's sure to separate the stag Stig's from the Captain Slow's amongst you. Just remember... please try and keep the karts shiny side up at all times.