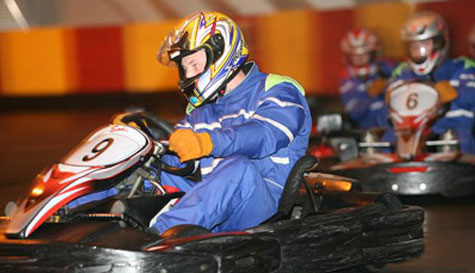 Go karting is awesome! There are no two ways about it, go karting has everything you need for a great stag activity; speed, competition, aggression, risk-taking and plenty of room for banter between the lads (and even a gentlemanly wager or two). Go karting really is an absolute classic stag activity.

Our fantastic indoor karting venue in Hamburg won't let you down on any of the above and is run with typical German efficiency and attention to detail. The karts are superb, the track is immaculate, the only thing that might be questionable is the driving skills of some of your competitors! And this track is certainly competitive with up to 12 karts racing at any time on a whopping 600m indoor track, it's guaranteed to get the adrenaline going.

With practice races and finals, each driver will get 30 minutes behind the wheel to prove they are the Schumacher's and Vettel's of the group! As well as professional instruction and all necessary equipment, your indoor go karting session will include an English speaking guide and tickets for the public transport network to get to and from the event.

All that's left is for you to suitably wind each other up before battle commences!