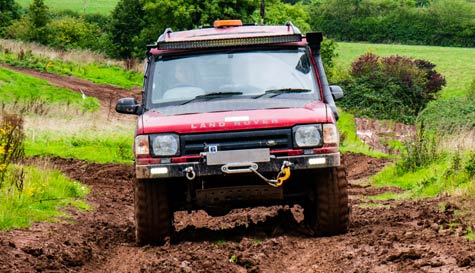 No need to mince our words: 4x4 driving is totally bad-ass, period: it is simply one of the most exciting motorised challenges available in the whole of the UK. Our Harrogate facility is set at an awesome 14-acre site ideal for unforgettable stag adventures.

After a quick briefing involving pertinent safety information, you will get out into the seriously impressive 4x4 off-road vehicles and take on the challenging terrain! You will be with joined by experienced off-road driving instructors who will provide you with full tuition to get the most out of these beasts.

Perfect for both novices and the more accomplished drivers, you will take on a range of challenges designed to show off the full extent of what these bad-boys are capable of: including taking on a variety of custom-built terrains and obstacles, deep water, steep gradients and recovery from "bomb holes".

Though the skills learned from this session may not be transferrable to successfully get out of a rush-hour traffic jam, it is one hell of an adrenaline rush for the whole group.

If you are looking for a kick-ass macho challenge then Harrogate 4x4 driving is totally unmissable! It's you and your fellow stags against the Yorkshire countryside in a completely unique and unpredictable session that demands epic amounts of skill and composure...

If that isn't enough to whet the stag appetite, we're not sure what will.