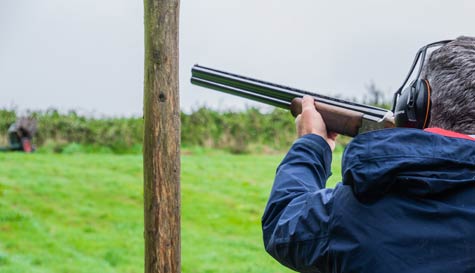 The old faithful. Clay pigeon shooting is a stag do classic with good reason: guys + guns = winner. Whether your stags are seasoned shooters or novice newbies when it comes to handling a rifle, clay shooting is simply the best stag do activity. There's a certain adrenaline rush that you only get with firing a gun, and an almost primal feel when you hit your first clay.

Our superb purpose-built shooting range in our Harrogate activity centre is just 35 minutes away from the city centre, and with drinks and light snacks available, you can re-fuel once you've shot your clays. The site has huge outdoor covers, so whatever the weather you can fire with ease. You and fellow stags will feel like a true gents, firing a gun then settling down to a proper Yorkshire cuppa!

You'll all be kitted out with your rifle and ear defenders, given the low-down on how to work the gun safely (and how not to flinch when you shoot), and you'll have a chance to work on your aim with a few practice clays. Then it's time to battle it out to find who the sharpshooters are, and who has the hand-eye coordination of a drunken monkey. Loser gets the first round!

Great for both close comrades and new mates, clay shooting is a superb stag activity that gives you plenty of banter and will set your stag do off with a bang. With expert guidance from qualified instructors to improve your aim and shoot with confidence, clay shooting is a sure-fire hit (see what we did there?) for your stag do! Are you feeling lucky, punk?