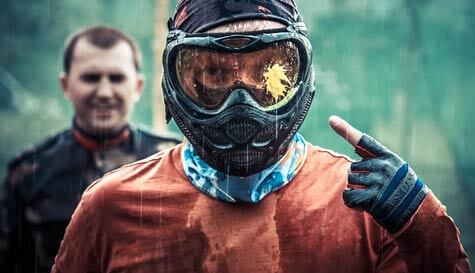 Paintballing: the ultimate stag do activity. Take your expertise from Call of Duty to the next level and get shooting. Pair strategy with brutality as you shoot to win, and to give the groom a paintball makeover, of course.

Once the paintball gun is in your hands, you'll face that eternal struggle: do you fire at your mate whilst he's turned away, or stick with valour and wait until he's got a fair shot too? Do you snipe at your frenemies from a hidden position, or charge in, all guns blazing?

It's no wonder that paintballing is one of the all-time favourite activities for stags, when it tests not only your sharpshooting skills but also your wartime tactics under pressure and the sacred bonds of friendship between you and the other lads go out the window as soon as the paint starts flying. Paintball is a game of strategy, of vision and tactics, of stealth and quick-thinking... and your willingness to empty an entire cartridge of paintball at the groom the second he lets his guard down.

It's also a physically demanding game, especially at our Harrogate stag party paintball site. Here, you can hunt your way through a labyrinth of bunkers and barricades throughout the woodland, in a destination that is an accredited by the United Paintball Sports Federation (it's a pretty big deal!). You can also re-fuel once you've coated the stag, with drinks and snacks available onsite. The site has three specifically created stag games set up for you to choose from, as well as all the standard game: the cryptically named 'Run the Gauntlet' and 'Butch and Sundance', as well as the less cryptic 'Stag Hunt'.

So get set for some Harrogate stag weekend paintball, kit up with your gun, ammo and suit - it's going to get emulsional...