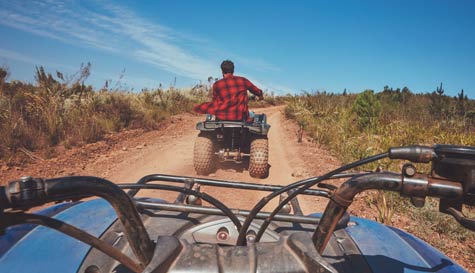 Most lads are used to the sight of the Yorkshire dales. Mile upon mile of gorgeous countryside. Unfortunately, what usually follows is Emmerdale. So what better way to take revenge than for you and the lads to take a 120cc beast of a machine and drive all over that irritating title sequence?

This mammoth 70 plus acre course is the perfect place to do just that. Set in secluded woodland you'll have plenty to challenge you as you undertake the ultimate test in driving skill. You'll be confronted with plenty of obstacles, trees, ditches, hills and if you're the anxious type there's even an open patch of woodland to ride on. While it is easier to drive without the constant threat of embarrassment in front of your fellow stags, it is still a hell of a lot of fun and provides you with the opportunity to really allow your mechanical monster to let go and display its raw strength. You'll fire your way through the course, powering through anything in your path.

But it isn't as easy as putting your foot down and ending up face-first into a tree. Our phenomenal Harrogate quad bikes stag party increases in technical difficulty as well as trying to keep pushing stags onto the next challenge. If four-wheeled limbo driving doesn't seem tricky enough wait until they see the balance beams... This is truly brown-trouser driving that will test any lad to the max!

This quad bike experience is a perfect inclusion for any stag weekend, providing thrills and plenty of memorable moments for your party.