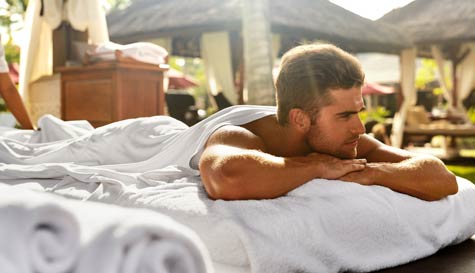 Health spas are no longer merely frequented by overly pampered women, the crowds are much younger and modern metrosexual males are now regular visitors. After a gruelling day of tough and testing activities or a night on the tiles, more and more men are choosing to visit a health spa to kick-back, de-stress and rejuvenate.

A visit to the spa is the perfect way for you and the lads to indulge yourselves and relax... and if you go for a little pampering too, who has to know?! You've all been working and partying hard, and frankly, you deserve this - and with all that pre-wedding stress, we'd say the groom-to-be could well do with a stress-busting session.

A visit to a spa doesn't have to be just relaxation, though - sometimes you're not ready to lay back and soak, and want the opportunity to work up a sweat. That's fine too! It's why we make sure we offer you a range of spas, including those more orientated towards action, health, and fitness. We guarantee we'll find the best spas to suit your needs - from hot tubs and saunas to gyms and swimming pools to tennis courts and golf courses, we've got it all covered.

Please note; In some European destinations, a number of treatments and facilities are unisex and often taken naked. If you're a touch "shower shy" you might wish to stick to the clothed areas of the spa.