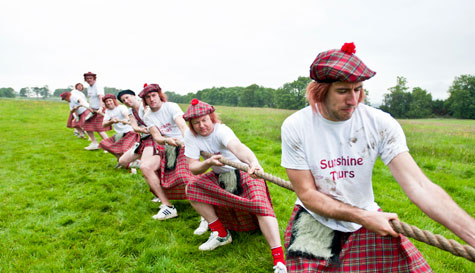 Grab yourself a battered Mars Bar, practice your best Scottish tones and whip on your kilt and sporran (whatever you decide to wear or indeed not wear something underneath is entirely up to you of course). And let the games commence!

Our stag party highland games are the perfect way to kick off some great sporting action and get some hilarious banter going between the lads in a series of sports they're unlikely to have ever tried before. And if you are going to do battle north of the border then there really is no finer way.

You'll be testing your strength for sure on this one. Toss the caber, hurl wellies and compete in the ultimate test of brawn in the good old fashioned tug of war. Win or lose, this is muddy good fun that's sure to give you all a time that could only be better if a fine Scottish lassie came along with a tray of scotch and an Aberdeen Angus steak.

Through your highland games stag party adventure, you and the boys will be transported back to medieval Scotland. Back when men were men and haggis were nervous as rival clans would compete in these games to display their strength and sporting mastery. Sound familiar? Yep, this is undoubtedly the perfect sporting clash for any stag weekend.

That's because not much has changed! At StagWeb, we know that blokes brag about their strength and skill at pretty much anything all the time. Well now is your chance to prove to the boys once and for all who the ultimate stag champions really are, and who's going to be left face first in the mud!