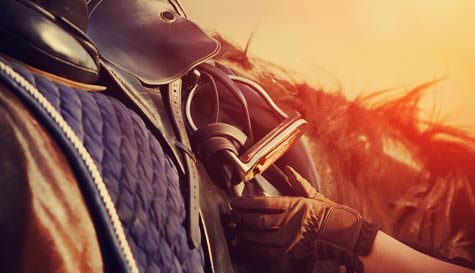 Have you ever compared some of the stag party to a bunch of cowboys? You could well be right with this superb stag package that is a break from the norm. When you get horse riding, you'll get to feel the ultimate power of these majestic animals.

Whether you're galloping off in Bath or Bratislava, you're sure to have a brilliant time with the lads as you do your best cowboy impressions and find out why four legs and a saddle are even better than combustible engine horsepower.

Whether you and the lads are experienced equestrians or complete riding newbies, our experienced instructors will get you riding like the best in no time at all. This is a great way for the boys to get out of the city on a stag do and get a load of the good old fashioned countryside in a unique and exciting way.

If you're off to a foreign destination like Algarve or Ljubljana then this is a fantastic way to trek the landscape up close and personal instead of being stuck on a tour bus. This really is Wild West stuff that'll see you and the boys making like Butch Cassidy and the Sundance Kid in a riding experience that will truly challenge everybody.

So if you and the lads fancy yourselves as would-be jockeys, our stag party horse riding is an absolute must. It's something the stags might not have tried before, and while it's not as extreme as quad bikes or 4x4 driving, it's just as fun as you try not to fall off your bucking bronco!